Your immediate action is needed to help pass the most important pro-life bill this Legislative Session! Click here to contact your State Senator.
End Dismemberment Abortion in Nebraska
LB814, introduced by Senator Suzanne Geist (Legislative District 25), will ban the barbaric practice of dismemberment abortion in Nebraska, enact criminal penalties against abortionists who violate the law, and help protect society from the degrading effects of tolerating such a practice.
LB814 was co-sponsored by 21 State Senators upon introduction (find out who co-sponsored the bill here) and has been signed by four more Senators since.
Contact your State Senator and ask them to support LB814!
To learn more about LB814 and dismemberment abortion, read below.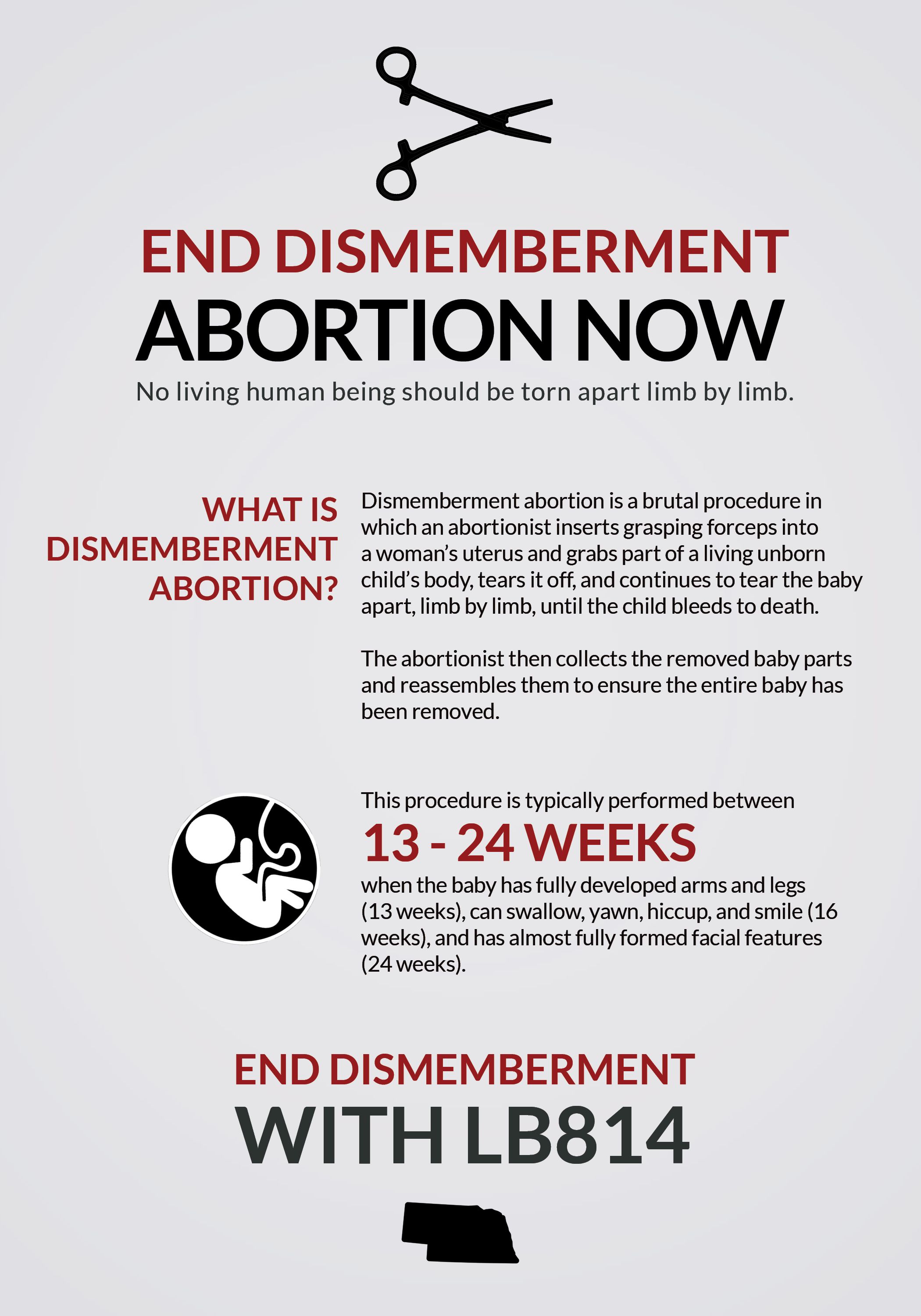 A Former Abortionist Explains Dismemberment Abortion Procedure
FAQ about LB814
Does dismemberment abortion happen in Nebraska?
Yes. While dismemberment abortion is not common in Nebraska, it does occur. Over the last 10 years, anywhere from 21 to 186 babies have died by live dismemberment every year (1.0 to 7.3% of Nebraska's abortions).
Will LB814 prohibit a woman's access to abortion?
No. This bill will prohibit one especially gruesome method of abortion, which will help affirm the dignity of human life. The bill would not restrict other methods of abortion available during the same time frame of a woman's pregnancy.
Does LB814 penalize women?
No. LB814 specifically states that no woman upon whom an abortion is performed shall be liable for performing or attempting to perform a dismemberment abortion. Criminal and civil penalties apply only to abortionists who violate the law.