Bishops' Pro-Life Banquet & Conference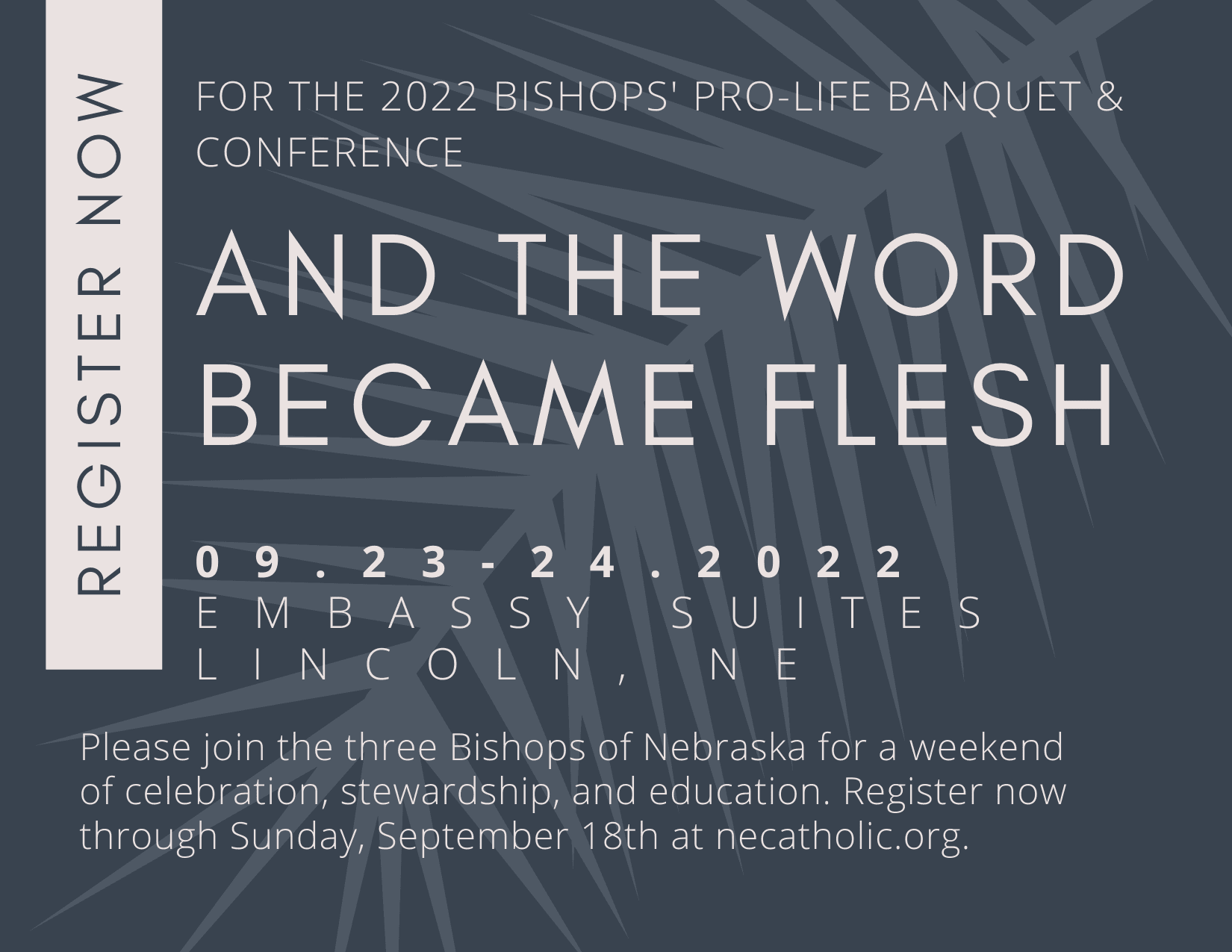 Join us for the 2022 Bishops' Pro-Life Banquet and Conference on September 23rd and 24th, under the theme of "The Word Became Flesh". When Our Lord became man, He shared the Gospel in word and action. He met sinner where they were, and knew how to communicate to their hearts and minds for conversion. The laity must be equipped to imitate Christ more perfectly as they meet the challenges of this culture where it is. Throughout the weekend, we will encourage contemporary, data-driven pro-life messaging and media in the digital age, featuring local and national talent.
The annual Banquet and Conference provide the opportunity for celebration, stewardship, and continued learning for over 500 pro-life Nebraskans. This pro-life weekend kicks off on Friday, September 23rd, with the Banquet. The Banquet evening features a cocktail hour at 5:30 PM followed by dinner, an awards ceremony, and the keynote address. On Saturday, September 24th, the Conference for pro-life leaders and volunteers commences at 8:30 AM with Liturgy of the Hours, followed by presentations with Q&A from 9:00 AM to 4:00 PM. Please see the full schedule below.
Pro-Life Banquet (Friday, September 23)
5:30 p.m. - Cocktail Hour
6:30 p.m. - Dinner, Award Ceremony, Keynote Address
Pro-Life Conference (Saturday, September 24)
8:30 a.m. - Welcome & Liturgy of the Hours
9:00 a.m. - Receiving the Diagnosis: The Culture and Ourselves
10:00 a.m. - Pro-Life, Pro-Woman, Pro-Family: The History of Feminism and Abortion (Erika Bachiochi)
11:15 a.m. - Pro-Life Messaging: Research and Data on Effective Messaging (Bernadette Tasy & Kat Talalas)
12:15 p.m. - Lunch
1:15 p.m. - Lightning Round Mini-Sessions
* How to Spiritually Cope and Respond to Media and Misinformation
* Changing Hearts and Minds: Combatting Common Myths
* Abortion, Race and Poverty (Maria Benes)
2:30 p.m. - Panel Discussion & Q&A on Pro-Life Public Policy
4:00 p.m. - End Program
For those interested in hotel room reservations, please copy and paste this link into your web browser to access a special room rate at the Embassy Suites in Downtown Lincoln for Banquet and Conference attendees: https://www.hilton.com/en/book/reservation/deeplink/?ctyhocn=LNKESES&groupCode=CESNCC&arrivaldate=2022-09-23&departuredate=2022-09-24&cid=OM,WW,HILTONLINK,EN,DirectLink&fromId=HILTONLINKDIRECT
If you have any questions, please contact the Nebraska Catholic Conference (402-477-7517).