Title X Updates
April 3, 2018 - The Nebraska Legislature passed the state budget bill with the Title X provision intact!
Title X in the news
Public Pulse Omaha World Herald
February 27, 2018
Megan Drapa

Title X Change Makes Sense

I am writing as a registered nurse, a mother of four daughters and someone with a long-term commitment to women's health care. I started my career 19 years ago by working on a national grant in Washington, D.C., investigating minority women and mental health access. I've presented and co-authored papers on women's health care that include the effects of intimate partner violence and psychological trauma on women's general health and their access to health care.

I am passionate about women receiving competent, comprehensive health care and, therefore, I've been following proceedings regarding Title X in the Nebraska state budget.

The proposed language makes good sense and ensures that an entity receiving Title X would never be falsely accused of utilizing federal dollars for abortion services. A statewide audit in 2015 revealed that Title X funds had been used to pay for abortion services, and another audit in 2016 found that coding errors had been made by abortion providers, causing concern that taxpayer dollars through Title X were being misapplied toward abortion services.

The proposed legislation is a simple measure that requires agencies receiving Title X funding to arrange separate finances and facilities for their abortion procedures. This should be a simple move for an organization such as Planned Parenthood, which reports that only 3 percent of its services are abortion-related.

The narrative from these agencies and their representatives during the recent legislative hearing was very different. They claimed the proposal was a "politicizing" and a "witch hunt." This victimization narrative does nothing to ensure better health care for women, and it is not empowering. My advice would be to support the proposal and comply with the regulation so women can be confident that their health and best interests are at the heart of Nebraska providers.

Megan Drapa, Omaha

http://www.omaha.com/opinion/the-public-pulse-title-x-language-change-makes-sense/article_7a1cc764-3dd7-5eb7-b082-12c353def95e.html

Kathy Hahn writes into the GI Independent and North Platte Telegraph about the pro-life provision in the budget bill.

Missing the point of TItle X

Emily Nitcher, writer for the Omaha World Herald covers the budget bill debate
Title X 2018 Budget Provision
In the Governor's 2018 budget proposal, there is a provision that would prohibit Title X funds from being distributed to an organization that "performs, assists with the performance of, provides directive counseling in favor of, or refers for abortion."  This proposal would allow an organization to receive Title X funds, so long as they are "objectively independent" from an organization that performs, assists, counsels in favor of, or refers for abortion.
How Title X Funds Work
Title X is a federal grant program that provides preventive health services and family planning services. Title X includes important services such as annual well-woman exams, STD testing and treatment, HPV testing and vaccinations. Title X also includes services such as contraception.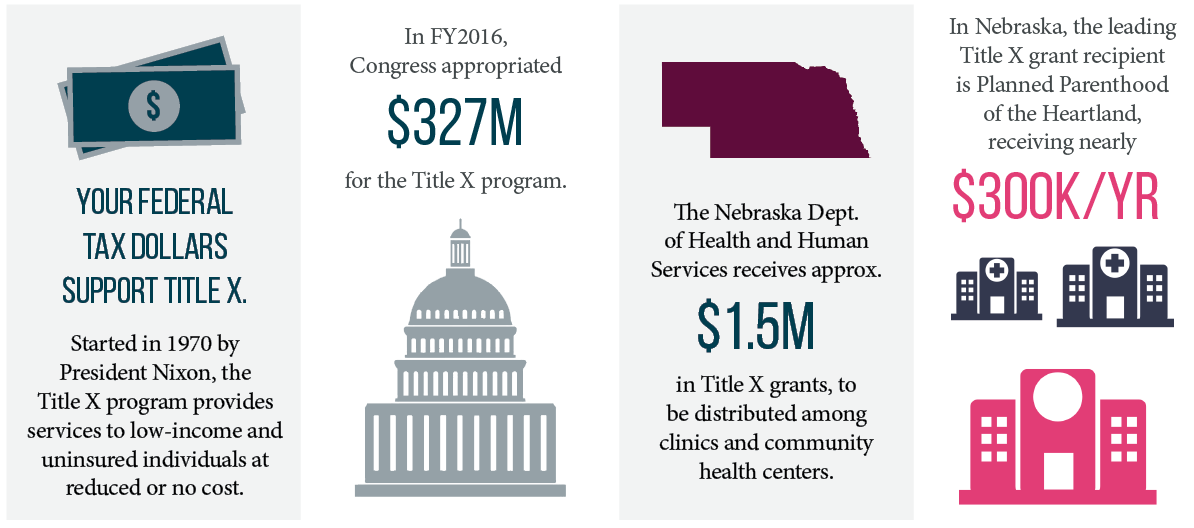 Title X Under the New Provision
Title X funds have always been intended to be kept separate and distinct from abortion-related activities. The new provision will provide accountability and ensure that this is the case. Below are two options for clinics which perform or assist with abortion, or refer for or counsel in favor of abortions,to maintain their eligibility for Title X funds. 

---
FAQ
But doesn't the law already require that no taxpayer money be used for abortion?
Yes. However, under the current scheme, there is no way to ensure that funds aren't actually being used to aid in abortion activity. When Title X services and abortion activities are in all ways separate, we can be sure no taxpayer money is being used for abortion. 
How will this affect clinics that don't aid in or refer for abortion?
It won't! Clinics and health centers not assisting in any way with abortion will remain fully eligible for Title X funds under the new provision. They can continue to serve men and women who are in need of Title X services. 
Will this cause women and men to lose healthcare services they need?
Everyone should have access to affordable healthcare. The only reason anyone would lose access to Title X services under this provision would be if clinics involved in abortion-related activities refuse to follow the guidelines of the Title X funding program.