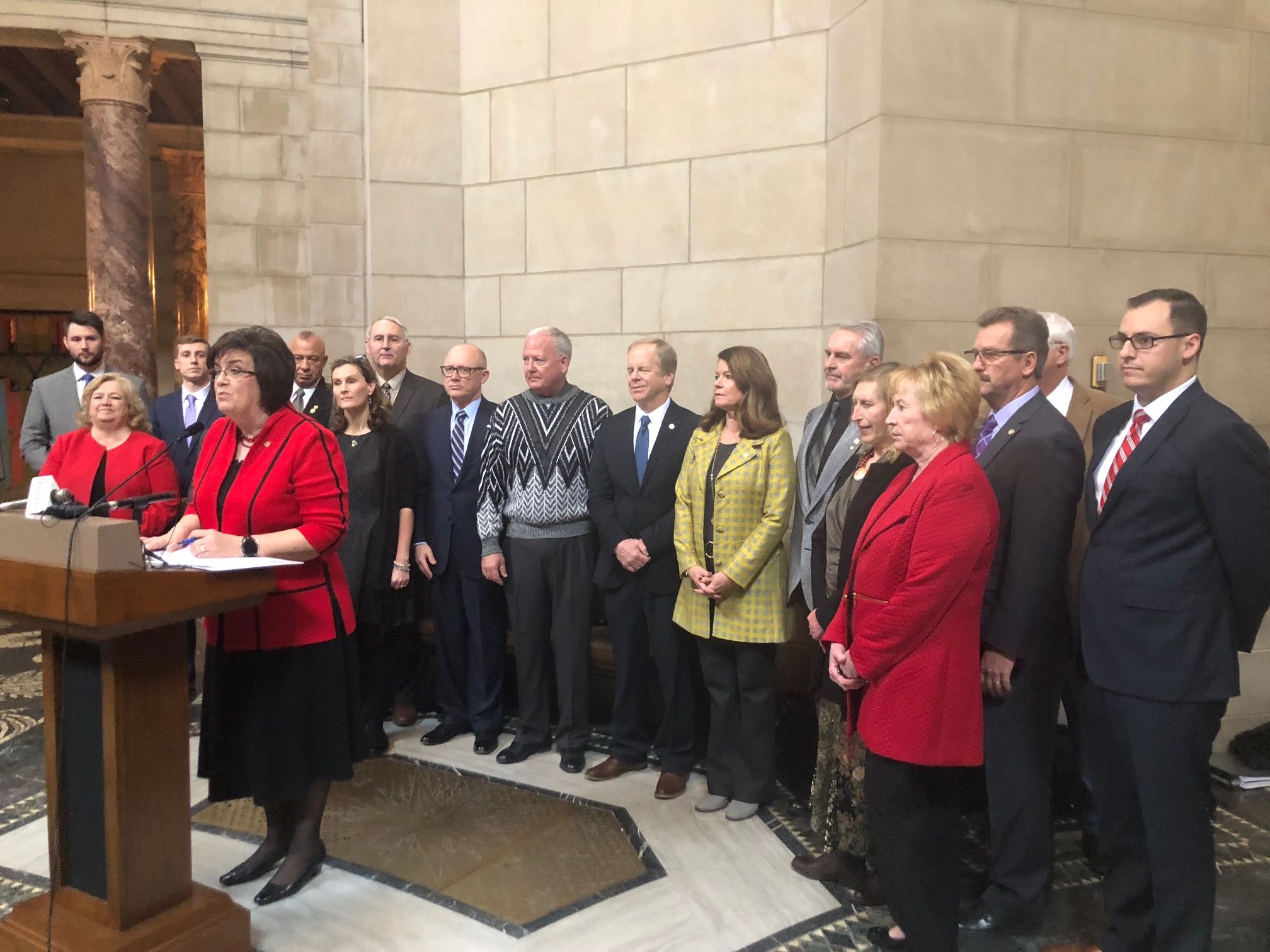 SENATOR ALBRECHT INTRODUCES NEW PRO-WOMAN, PRO-INFORMATION,
PRO-LIFE, AND PRO-CHOICE LEGISLATION
LINCOLN, NE - Today, Senator Joni Albrecht, District 17, introduced LB 209, which would add a new section to Nebraska's informed consent law to include information to help women access the abortion pill reversal process.
"I am proud to introduce a pro-woman, pro-information, pro-life, and pro-choice bill that will benefit all women who, after beginning the abortion pill process, want a second chance at choice," said Albrecht.
The legislation requires that when a woman walks into an abortion facility, she must be given all the information she needs to make a truly informed choice about her pregnancy, including the information she needs to find help and reversal treatment if she happens to change her mind after taking the abortion pill mifepristone.
Albrecht was joined by Rebekah Buell Hagan, who saved her child through the abortion pill reversal process, and Teresa Kenney, nurse practitioner and administrator of the process. Hagan described her experience after beginning the abortion pill process.
"By the time I walked to my car [after taking the first pill], I felt the kind of grief that can only be described as a mother grieving the loss of her very wanted child," Hagan shared. 
Hagan continued, "I turned to my phone looking for a way out. I discovered I was not the first girl to feel regret [after starting the abortion pill process]. I found the Abortion Pill Reversal website. The people who answered the hotline were kind and understanding and explained the reversal process to hopefully save my baby's life."
Hagan's son was saved by the abortion pill reversal process and is now five years old.
In Nebraska, 55% of abortions are so-called "medication" abortions – those caused by abortion-inducing drugs. Recent studies have demonstrated it is possible to greatly increase the chance that a mother can save her baby if she begins a standardized abortion pill reversal protocol soon after ingesting the abortion pill, but only if she knows it is possible and where she can find medical help.
Trained medical professionals, such as Kenney, are already successfully offering abortion pill reversal treatment across the United States, including in Nebraska.
"Abortion Pill Reversal is great news for a woman caught in a situation where she changes her mind about an abortion and wants to save her baby," said Kenney. "I believe that women are strong and capable. And I think the state of Nebraska should stand behind women by giving them the opportunity to know all the information surrounding their reproductive options."
"We all sometimes make decisions that we wish we could take back," said Albrecht. "I introduced this bill because I believe every woman deserves to be given all the information she needs to make a truly informed choice."
Several advocacy groups have offered their support for this bill and growing awareness of the abortion pill reversal process.
"Women deserve real choice. LB 209 is not only pro-life, but pro-woman, pro-science, and pro-information, "said Karen Bowling, Executive Director, Nebraska Family Alliance. "Nebraska Family Alliance is proud to stand with Senator Albrecht in better protecting both women and unborn children in Nebraska."
"The Abortion Pill Reversal protocol has successfully turned despair into happiness for hundreds of women as they are able to give the gift of life. We thank Senator Albrecht for introducing LB 209 which will further ensure that women know of the option of reversing their chemical abortion," said Julie Schmit-Albin, Executive Director, Nebraska Right to Life 
"We are honored to support this life-changing, life-saving legislation," said Lauren Garcia, spokeswoman for the Nebraska Catholic Conference. "The many success stories from across the country give us hope that information about this process can save women in Nebraska from the pain and regret of an unwanted abortion and losing a wanted child."