End of Life Care Resources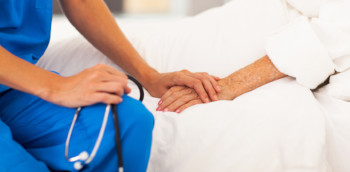 The Catholic Church affirms the sanctity and dignity of every human life as a precious gift of a loving God. All men and women must respect the lives of others while accepting the duties of responsible stewardship for their own lives and for the lives in their care.
At the same time, however, faith in the resurrection and hope for eternal life have enabled the Catholic tradition to accept death as the inevitable end to temporal life and to believe that death is the gateway to eternal life. It is for this reason that there is no obligation to utilize all possible medical interventions, all possible means of prolonging life. Death need not be avoided at all costs.
Although Catholic teaching does not look upon biological life as an absolute value, nevertheless it rejects suicide, assisted suicide and mercy killing because they are intrinsically opposed to the reverence for life that Christians are called upon to manifest and express. Compassion and care for dying and seriously ill or disabled persons must never include the willingness to assist in the direct ending of their lives.
---
Pro-Life Resources
Here you will find a variety of information and resources that can be used for the Parish Pro Life Coordinator, pastor or anyone wanting to promote the pro life cause.
---